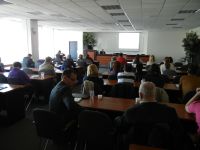 This workshop was the first of a series of events organised within the multEE project.
Energy efficiency measures, monitoring of energy, energy audits, bottom – up approaches, and regular valuation of EE measures were at the core of the workshop. The multEE project, its activities and interim outcomes were introduced to the audience. Participants discussed a series of best practice examples for M&V schemes and coordination mechanisms, as well as the monitoring of energy consumption in public building and regular evaluation of EE measures.
The workshop was attended by all relevant Slovak ministries, institutions, organisations, interinstitutional group including the Ministry of Economy (MoE), the Government office of the Slovak Republic (GOoSR), the Ministry of Transport, Construction and Regional Development (MoTCaRD), the Ministry of Internal  Affairs (MoIA), the Ministry of Health (MoH), the Slovak Innovation and Energy Agency) (SIEA), the Institute of energy passive houses and the Ministry of Education, Science, Research and Sport (MoESRS)
Participants agreed that clear and reliable data were the foundation of a proper data collection and verification process. Given the connection of the monitoring system to other government levels, all representatives play a significant role in the data collection process. All interested parties need to stay informed about progress in energy savings and measures aiming to improve EE in individual sectors. Improving the bottom-up methods and collection of data is necessary for a proper evaluation and validation process of data as well as for its collection.
The workshop concluded with the need for a closer look and discussion with responsible parties about the availability of national data, which SIEA will be able to collect for individual old/new methods.
Location:
Slovak Innovation and Energy Agency
Organisation:
Slovak Innovation and Energy Agency