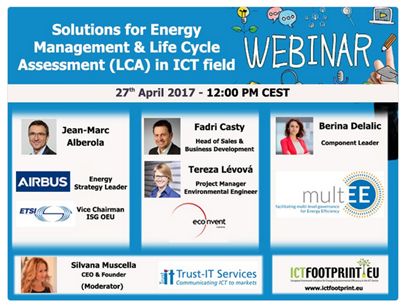 On 27 April, at 12:00 PM CEST, ICTFOOTPRINT.eu is organising a new webinar to help you manage the energy consumed by ICT and know how LCA can guide you to make it more sustainable.
The multEE project and its newly developped Monitoring and Verification Platform (MVP) will be presented by Berina Delalic (GIZ) during the webinar.
The webinar will give key information about some options available to monitor energy management performance, not only in data centres but also on office equipment. Plus, the webinar will show how LCA are useful towards a sustainable ICT.
Among guests speakers are:
Jean-Marc Alberola, Group Energy Strategy leader at Airbus & Vice Chairman of ETSI ISG OEU (Industry Specification Group Operational Energy Efficiency For Users). After a short description of the global KPI DCEM, the presentation will focus on the implementation of KPI's that enable the monitoring of the energy management performance in data centres and ICT sites.
Fadri Casty & Tereza Lévová, both from EcoInvent, the world's most consistent & transparent Life Cycle Inventory database. Fadri and Tereza will demonstrate the value of doing LCA on ICT equipment.
Berina Delalic, from multEE will introduce the Monitoring & Verification Platform (MVP), a web based tool developed to calculate and store data about energy and CO2 savings resulting from implemented energy efficiency measures. The presentation will show how MVP can be used for measuring results from the activities that enable more efficient use of energy for ICT in commercial buildings.
The webinar will be moderated by Silvana Muscella (Project Coordinator of ICTFOOTPRINT.eu and CEO of Trust-IT Services).
The 1 hour webinar is free and open to all. REGISTER HERE
Why should you watch the webinar?
Learn how to start making your ICT more sustainable;
See how you can manage better the energy consumption of your ICT;
Start benefiting from the advantages of improved energy efficiency and reduced energy costs;
Absolutely free to join and in 1 hour you'll have a clear picture of how to improve your energy efficiency in ICT.
The webinar is for any European ICT player that needs to improve its energy efficiency in ICT.