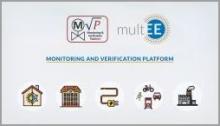 Countries need practical and easy-to-use solutions to better assess the impact of their implemented energy saving measures and plans.
This short video tutorial presents functionalities and benefits from the use of an innovative Monitoring & Verification Platform (MVP) that has been recently adopted by several countries in Europe and beyond.
The MVP tutorial is accompanied by a user manual and an extensive list of bottom-up measures from the building, industry and transport sector.
The application is based on the collection of bottom-up (BU) data on a number of plans and measures, their implementation, energy savings, CO2 emissions and implementation costs. It allows calculating savings by using reference values; it provides a cost-effective alternative to ex-post audits; it can be handled by users with limited technical knowledge and, overall, it facilitates information exchange between national and local levels.
The IT tool is currently being implemented in Croatia, the FYR of Macedonia, Greece, Latvia, Lithuania, and Slovakia and proposes a good example of smart and innovative solutions. The MVP has been originally developed by the BMZ-financed Open Regional Fund for Southeast Europe – Energy Efficiency for western Balkan countries.
For further information, please contact the project team at communication@multee.eu