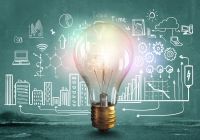 The Institute of Physical Energetics (IPE, Riga, Latvia) within the frame of the multEE project, are organising workshop-consultancies focused on energy efficiency impact assessment bottom-up, country-specific default values and measurements and verifications of savings. Invited participants are representatives of the Ministry of Economics, Energy Efficiency centre of the national power supply company "Latvenergo", Riga Energy Agency, Certified auditors who carry out energy audits of both apartment buildings and industrial enterprises.
The 1st workshop was held on 31 March, followed by the 2nd workshop on 10 May. The main topic of the workshops was the linkage of bottom-up methodology elaborated within multEE project with the Latvian Energy Efficiency Catalogue for deemed energy savings elaborated by the Ministry of Economics.  
There are differences in methodology for some measures between the multEE approach and the Latvian Catalogue. Although the calculation formulaes of multEE and the Catalogue are different, the savings' result can be quite similar, e.g., in case of replacement of circulating pumps. 
Regarding soft measures, such as awareness and information measures, it is found that preference should be given to the calculation method proposed by the multEE project, as the metric used by the Latvian Catalogue does not fit well in this case.
For electricity saving measures, especially lighting,, values should be specified to avoid overestimations of technologies life-times. Additionally, inclusion of some new electricity saving technologies is considered to be useful.
During the second workshop there was discussion regarding the input of administrative structure for the IT-Tool on bottom-up monitoring. Today, Latvia has 119 local municipalities and no regional administration. Thus two level input – the state (national) and the local municipalities – will be used in the Tool. On the side of the local municipalities, the largest entities (according to number of inhabitants), as well as municipalities obliged to introduce energy management systems according to the new 2016 Energy Efficiency Law will be included.
It was agreed to continue the series of consultative workshops to perform the analysis and check of the Catalogue default values, in order to get the best choice for Latvia.
Fotolia_(c) Sergey Nivens
Date:
31 Mar 2016

to

10 May 2016