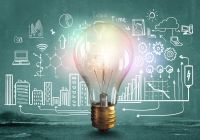 The workshop focused on energy efficiency measure impact assessment: bottom-up and measurement ant verification of savings and was organised by the Lithuanian Energy Institute.
Participants included institutions and organizations, responsible for energy saving calculations on the national level, measurement ant verification of savings and focused on:
bottom-up calculation methodology,
selected energy efficiency measures for Lithuania,
bottom-up formula selected measures,
specific (default) values in Lithuania.
In Lithuania, the state enterprise the Energy Agency carries out calculations of energy savings. The Ministry of Energy of the Republic of Lithuania is responsible for the attainment of the national energy efficiency target for 2020.
According to the join conclusions, workshop participants agreed that prepared bottom-up formulas (D.2.1, and the upcoming D.2.2) are very useful to Lithuania. As pointed out by Lithuanian specialists, the upcoming software designed to use project - specific values (i.e.: a combination of drop – down menu listing existing reference values and free entry for project values would be ideal. All workshop attendees agreed on need for further elaboration of energy savings calculation methodology.
Fotolia_(c) Sergey Nivens
Location:
Lithuanian Energy Institute