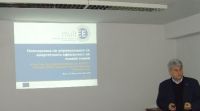 A training day on the System for Monitoring and Verification (MVP) of energy efficiency measures was held in Skopje on 9 November 2016.
The MVP system assists those authorities responsible for energy efficiency measures in assessing progress towards targets. The system helps systematically collect data on a number of plans and measures, their implementation, energy savings, CO2 emissions and implementation costs. It also enhances the monitoring and verification process, allows timely adjustments to the individual measures and improve decision-making processes in the energy sector.
Read more about the training.