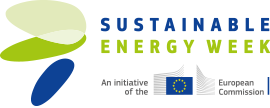 On 21 June, join us at the EU Sustainable Energy Week!
You can learn more about the multEE project in these two events:
- From 14:00 to 17:30, the multEE team will be at the Networking Village 5, in the Residence Palace. There, we will show our innovative Monitoring and Verification Platform (MVP) and its video tutorial. You will be able to test the prototype version and explore its functions. Experts on the tool will be available to answer your questions and explain the potential benefits of this tool, when adopted at a local, regional and national level.
- From 16:00 to 16:30, Berina Delalic (GIZ) will present the MVP tool in the Speakers' corner, again in the Residence Palace. Ms Delalic will explain how the tool can help building multilevel governance for energy efficiency.
Join the multEE Team in one of these two spaces. We will be happy to answer your questions!
European Sustainable Energy Week (EUSEW) is a month-long series of activities to build a secure energy future for Europe. It brings together public authorities, private companies, NGOs and consumers to promote initiatives to save energy and move towards renewables for clean, secure and efficient power.
EUSEW is taking place from 19 to 25 June.
Twitter: @euenergyweek & #EUSEW16
Facebook: euenergyweek
LinkedIn: EU Energy Week group
YouTube: EUSEW TV
Address:
Residence Palace
Rue de la Loi 175
Belgium