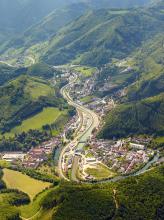 Austrian municipalities provide a very valuable contribution to climate protection and the conservation of energy resources. A conscious approach to energy consumption and an increase in energy efficiency are important tools in order to achieve the climate and energy goals by 2030 as set by the European Union.
Municipalities in Austria as such do not come under the obligation in the framework of the National Energy Efficiency Act. However, they should be given the opportunity to apply their implemented energy efficiency projects. This brochure uses the example of Austrian municipalities to demonstrate how non-obligated parties in energy efficiency policies can be motivated to participate and get involved to the reporting of energy efficiency measures.
This brochure was created by the Austrian Energy Agency as part of the multEE project for the promotion of multi-level governance in the field of energy efficiency.
Foto: Hans Ringhofer